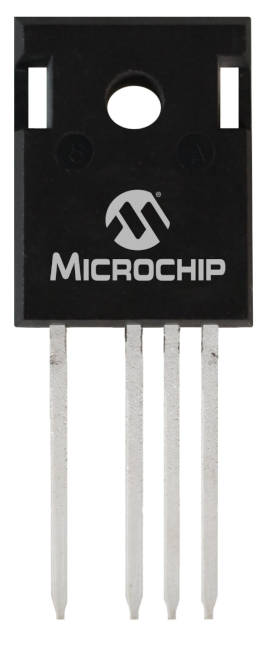 MSC025SMA330 is the 25mΩ mosfet in a four-lead TO-247 package, and MSC090SDA330 is the 90A diode in a similar two-lead 'T-Max' package. Both are also available in die form.
Further data on the mosfet is sadly not public at the moment, but the diode data sheet is available and shows a 2.1V typical forward drop at Tj = 25°C, increasing to 4.3V with the junction at 175°C.
Reverse current is typically 15μA (but 200μA max) at 25°C 3.3kV increasing to 150μA typ at 175°C.
Junction capacitance is ~6nF with 1V reversed across the junction (1MHz), dropping to 361pF at 1.1kV and 256pF at 2.2kV.
"System designers of traction power units, auxiliary power units, solid-state transformers, industrial motor drives and energy infrastructure solutions require high-voltage switching technology," according to the company. "Microchip has released industry's lowest on-resistance 3.3 kV SiC mosfet and highest current-rated SiC schottky barrier diode."
SPICE models are available, compatible with the company's Mindi analogue simulator.
MSC090SDA330 SiC diode product page