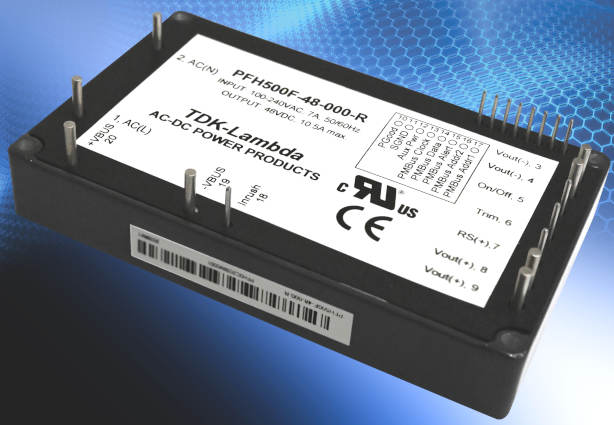 Inside PFH500F-12 and PFH500F-48 are GaN power transistors, 'bridge-less' power factor correction and digital control, with digital isolators replacing optocouplers for reliability. Peak efficiency is 92%.
PMBus is included for programming and remotely monitoring.
Operating from 85 to 265Vac, the 12V PSU can deliver 42A and be trimmed across 9.6 – 14.4V using the trim pin or PMBus, and the 48V 10.5A version can be trimmed across 38.4 – 52.8V.
Droop mode current sharing is included, as is a 12V auxiliary stand-by output. There is also remote on/off, remote sense and an open-collector power-good output.
The PMBus can also activate the remote on/off, and change the under-voltage, over-voltage, over-current and over-temperature set points, as well as read-back input current, output current, input voltage and internal temperature.
Baseplate temperature needs to be maintained between -40 to +100°C.
Input to output isolation is 3kVac, input to case 2.5kVac and 1.5kVdc output to case.
Safety certification is to the IEC/UL/CSA/EN 62368-1, with CE and UKCA marking for the Low Voltage and RoHS Directives.
Evaluation boards are available.
Applications are foreseen in LED signage, power amplifiers, test equipment and measurement equipment.