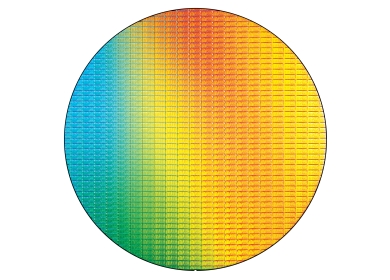 IQE, the compound semiconductor wafer supplier, claims to have the world's first commercially available 200 mm (8") VCSEL epiwafer.
The wafers will be used in the wireless, sensing and display markets.
IQE's 200mm epiwafers will enable a step-change in unit economics for compound semiconductors, leading to the expansion of the market for IQE.
The increase in wafer size will expand to new foundry partnerships, including Silicon-based foundries.
Furthermore, it enables the integration of compound semiconductors on silicon, allowing adoption across a wider range of devices and applications.
IQE's 200mm VCSEL development is an example of the Company's continued innovation with the aim of expanding the market for wireless and 3D Sensing. 3D Sensing was made economical within premium smartphones in 2017 when IQE developed and scaled VCSEL epiwafers from 100mm to 150mm. The introduction of 200mm creates opportunities beyond the smartphone, into a broad range of intelligent connected devices and also enabling applications in the Metaverse
window.___gcfg = {lang: 'en-US'};
(function(w, d, s) {
function go(){
var js, fjs = d.getElementsByTagName(s)[0], load = function(url, id) {
if (d.getElementById(id)) {return;}
js = d.createElement(s); js.src = url; js.id = id;
fjs.parentNode.insertBefore(js, fjs);
};
load('//connect.facebook.net/en/all.js#xfbml=1', 'fbjssdk');
load('https://apis.google.com/js/plusone.js', 'gplus1js');
load('//platform.twitter.com/widgets.js', 'tweetjs');
}
if (w.addEventListener) { w.addEventListener("load", go, false); }
else if (w.attachEvent) { w.attachEvent("onload",go); }
}(window, document, 'script'));