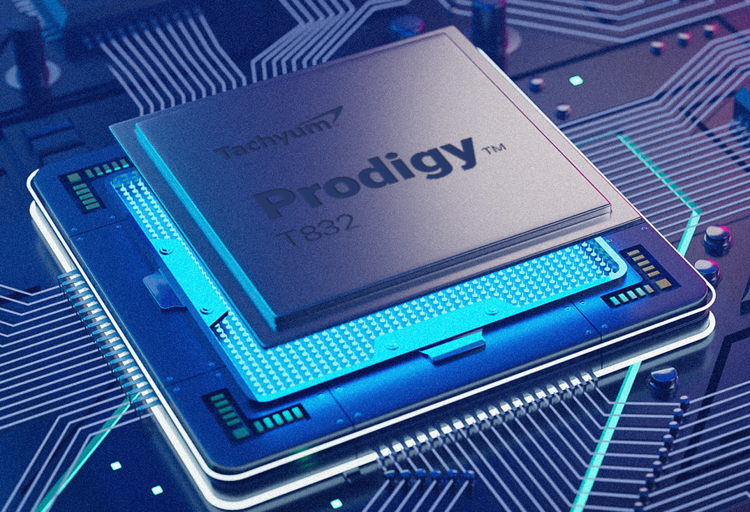 The Prodigy processor is claimed  to have  4x the performance of the fastest Xeon, 3x more raw performance than NVIDIA's H100 on HPC and has 6x more raw performance on AI training and inference workloads, and up to 10x performance at the same power.
The chip claims to  deliver up to 3x the performance of the highest-performing x86 processors for cloud workloads, up to 3x compared to the highest-performing GPUs for HPC, and up to 6x for AI applications. The chip has:
128  unified 64-bit cores running up to 5.7 GHz  16 DDR5 memory controllers
64 PCIe 5.0 lanes
Multiprocessor support for 4-socket and 2-socket platforms
Rack solutions for both air-cooled and liquid-cooled data centres
SPECrate 2017 Integer performance of around 4x Intel 8380 and around 3x AMD 7763HPC
Double-Precision Floating-Point performance is 3x NVIDIA H100
AI FP8 performance is 6x NVIDIA H100
Among Prodigy's vector and matrix features are support for a range of data types (FP64, FP32, TF32, BF16, Int8 ,FP8 and TAI); 2×1024-bit vector units per core; AI sparsity and super-sparsity support; and no penalty for misaligned vector loads or stores when crossing cache lines.
This built-in support is claimed to offer high performance for AI training and inference workloads, increases performance and reduces memory utilisation.
By increasing performance while using less power, Prodigy aims to solve the problem of sustainable data centre growth by offering unparalleled carbon footprint reduction and unprecedented data centre TCO savings as part of this new-world market.
Sampling for Prodigy will begin later this year with volume production taking place in the first half of 2023.
Tachyum's Prodigy family includes eight products, ranging from the 128-core HPC/AI at the high end to a 32-core lowest-power version, to address a wide range of markets, including cloud, supercomputing, Big AI and edge.
Early engagement customers wishing to see how Prodigy will benefit them can order an evaluation platform by contacting Tachyum at https://www.tachyum.com/contact/
Follow Tachyum
window.___gcfg = {lang: 'en-US'};
(function(w, d, s) {
function go(){
var js, fjs = d.getElementsByTagName(s)[0], load = function(url, id) {
if (d.getElementById(id)) {return;}
js = d.createElement(s); js.src = url; js.id = id;
fjs.parentNode.insertBefore(js, fjs);
};
load('//connect.facebook.net/en/all.js#xfbml=1', 'fbjssdk');
load('https://apis.google.com/js/plusone.js', 'gplus1js');
load('//platform.twitter.com/widgets.js', 'tweetjs');
}
if (w.addEventListener) { w.addEventListener("load", go, false); }
else if (w.attachEvent) { w.attachEvent("onload",go); }
}(window, document, 'script'));