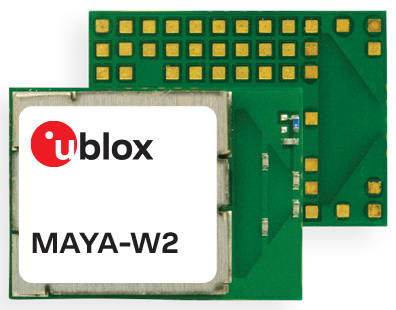 "Wi-Fi 6, also referred to as 802.11ax, offers better network efficiency – especially in congested areas, lower latency and improved range over previous Wi-Fi standards," said U-blox. "Thread paves the way for low-power IP-based mesh networks commonly used in home automation."
Called MAYA-W271-00B, the module also supports classic Bluetooth and Bluetooth LE audio. "New audio functionalities allow devices to concurrently transmit several distinct audio streams, simultaneously receive multiple audio streams, and broadcast audio streams to multiple users," according to the company.
There will be open-source Linux, Android and FreeRTOS software drivers – the FreeRTOS software drivers are pre-integrated into the MCUXpresso software development kit, while the Android and Linux software drivers are pre-integrated into the board support packages for NXP's i.MX application processors.
The device is build around NXP's IW612 IC, and has two separate antenna pins for Wi-Fi and Bluetooth/802.15.4. Three other MAYA-W2 modules are planned, built around the simpler IW611 and offering only Wi-Fi and Bluetooth with various connection options.
"NXP's recently announced IW612 is industry's first tri-radio device for enabling secure connectivity for smart home and industrial use cases, and is ideally suited for ecosystems including the new Matter protocol," said NXP marketign director Tom Eichenberg. "U-Blox is one of the first companies to leverage this solution, for their MAYA-W2 module."
U-blox describes it as both 'professional' and 'industrial' grade – operation is over -40 to 85°C.
It sees it being ised in solar inverters and electric vehicle charging infrastructure, as well as wireless hubs and gateways used in healthcare, smart buildings, smart home (including Matter) and smart factories. "Other potential use cases include professional appliances, asset and fleet management, and retail solutions."
Samples of the module, and evaluation kits, will be available in June.
window.___gcfg = {lang: 'en-US'};
(function(w, d, s) {
function go(){
var js, fjs = d.getElementsByTagName(s)[0], load = function(url, id) {
if (d.getElementById(id)) {return;}
js = d.createElement(s); js.src = url; js.id = id;
fjs.parentNode.insertBefore(js, fjs);
};
load('//connect.facebook.net/en/all.js#xfbml=1', 'fbjssdk');
load('https://apis.google.com/js/plusone.js', 'gplus1js');
load('//platform.twitter.com/widgets.js', 'tweetjs');
}
if (w.addEventListener) { w.addEventListener("load", go, false); }
else if (w.attachEvent) { w.attachEvent("onload",go); }
}(window, document, 'script'));