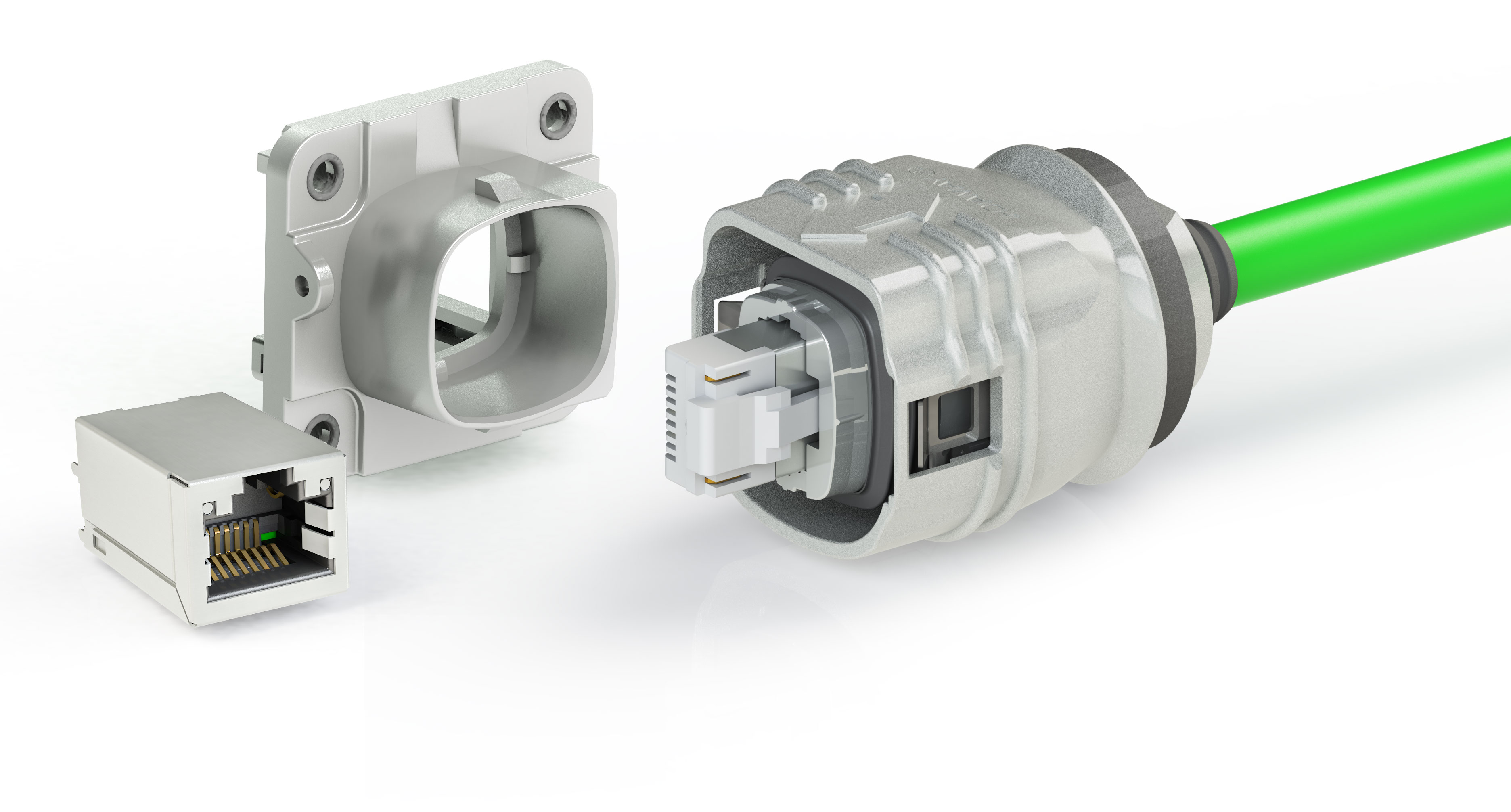 Within the product line, the Y-Con Cover-40, which has been established for years, has now been replaced by a new metal cover, namely the Y-Con Cover-40 PP with push-pull locking. It facilitates and simplifies handling, with the cover automatically locking or unlocking during the plugging or unplugging process.
The new cover also complies with protection ratings IP67/ IP68/ IP69K and is therefore suitable for the harshest industrial environments. It is characterised by high robustness, temperature resistance and durability and is largely protected against vibrations. Reliable data and optional power transmission is thus reliably guaranteed.
Of course, the new cover is backwards compatible with the components used so far. This means that IP67/ IP68/ IP69K components already in use can also be connected to the new connector system.
The metal cover can be installed in the usual simple self-assembly manner with Y-Con cable plugs and cables. The reduction of individual parts has also reduced complexity and the error rate during assembly for the customer.
In addition, the new version offers an enlarged sealing surface and improved EMI protection. Furthermore, the new cover allows the processing of different cable diameters from 6.1 mm to max. 7.1 mm.
Power Supply and Data Transmission
The Y-Con RJ45 is the only industrial connector system for Industrial Ethernet, Profinet and fieldbuses that optionally includes two additional, fully integrated contacts for power supply based on the RJ45 specification. Up to 3.1A can be reliably transmitted via these.
Cable Assemblies
Industrial Ethernet connects sensors, actuators and encoders via Y-Con RJ45 to Y-Circ M12 adapter cables. The push-pull version of M12 is also available.
Summary of benefits of the Y-Con Cover-40 PP:
Easy handling due to new push-pull locking mechanism for vibration-proof RJ45 connections
Fewer individual parts allow quick and easy assembly
Lock can be released with a screwdriver
Robust metal housing made of zinc die-cast with high mechanical stability – designed for industrial use
Stainless steel locking hooks
Seal made of FKM or HNBR
Protection rating IP67 / 68 / 69K
2 optional additional power contacts fully integrated in plug and socket with up to 3.1 A current transmission
Increased EMI protection
Adapter cables with M12 (Y-Circ M) or metallic push-pull connectors (Y-Circ P) available
Operating temperature -40°C ~ +120°C